Posters
A personalized poster printing can be used at any type of business where people gather near or on public transport, coffee shops, restaurants, bars & nightclubs even retail stores that have parking lots nearby will see traffic increase when potential customers pass by their place while waiting for the next bus or train's arrival time outside.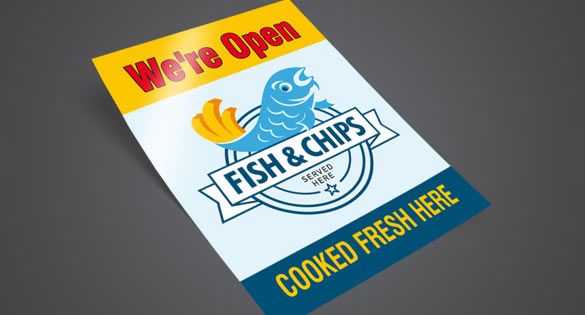 Show Filters
Best online Poster Printing for the cheapest price.
Display large format printed posters in bars, restaurants, pubs, events, and shop windows are a great way to capture the attention of everyone who passes by. Advertise your promotion, newly released product, or service simply and effectively by displaying a poster. Our printed posters are on 250gsm Silk paper that can be used indoors and PVC materials that can be used for outdoor purposes. Our outdoor posters are printed using waterproof and fade-resistant ink on PVC paper stock to give maximum lifetime and visibility for your message.
If you're looking for a more economical option in the long run, our A2 posters are also available on a 150gsm Silk. Long Run posters are available from 200 and upwards.
Upload your own design or let us design a perfect poster for you. Click here to view designing charges.
Rushprint is a UK printing company that specializes in high-quality poster production.
We are a professional print shop and proud to offer the best poster printing services in the UK and online. Order your posters printed by Rushprint and get free next-day delivery on all orders.
Have you recently launched a new product or service? Rushprint offers affordable poster printing services to help get the word out. Our collection of high quality posters is available in several sizes, paper types and can be displayed anywhere from office notice boards to walls.
Our custom-sized posters can be customized to suit your needs. We have A4 notice board posters for those looking for a quick and easy solution, or if you need something more professional we also offer large display sizes like our A0 poster which is perfect for advertising an event.
Which is the best poster size?
Posters are a great way to advertise your business. They can grab the attention of customers in an eye-catching and creative manner, while also offering them information that they might find beneficial. However, it may be difficult for you to know which poster would suit your needs best for your advertising campaign.
If you are looking for a cheap poster printing, thanks to our affordable pricing poster printing service, we have the perfect posters for you at your budget. We offer eight different size of posters such as A0 poster, A1 poster, A2 poster etc. with three different paper stock. Print posters on 250gsm silk paper stock are great if you're looking for a cheap and indoor use. Print a poster on 220mic PVC or 400mic PVC is guaranteed that people will notice when it's time to promote something new or exciting; photo prints make an excellent choice if what you really want is quality printing with images. No matter which option suits your needs best, all of them can be used outdoors!
How much does it cost to print a poster?
There are a number of factors that affect prices, including quantities, materials, sizes and delivery options. Rushprint strives to offer competitive prices all year long by making the price you see is the price that you pay. This transparency allows customers an understanding of what they are paying for and how much each aspect costs, which can be difficult with other printers who charge hidden fees or have higher charges on certain areas like design proofs and delivery charges.
Rushprint offers a free artwork check-up before printing so our designers know exactly where their final product will look best, along with options such as quantity discounts when ordering more than one item at once.
How long will take to print a poster?
We offer various delivery times for our printed posters. This can range from two day delivery to 3-4 days, depending on the option on what you choose when ordering the online poster. However, it usually takes no more than 5 days regardless!
How will I be positive that my poster stands out?
Posters are an effective way to promote your business, especially when they're eye-catching and high quality. When displayed on walls indoors or outdoors, posters can reveal a message that is at first eye catching then goes from there. The most important thing about outputting these types of messages onto the masses is choosing print shop who know how to deliver stunning results-quality comes before anything else! The Rushprint team is committed to helping their clients grow by investing in the latest printing technologies. By utilizing a deep understanding of industry standards and techniques, they offer high-quality promotional posters that are sure to leave lasting impressions on audiences everywhere!
What size of posters can be printed at Rushprint?
A3 Posters
A3 Posters can be used to promote sales in your window.
A3 Size: 297 x 420mm / 29.7 x 42cm / 11.7 x 16.5 inches
A2 Posters
You could choose an A2 poster to make a big statement at indoor events, or you might have it printed on waterproof stock material so that it is durable enough to go outside!
A2 size:  594 x 420mm / 59.4 x 42cm / 23.4 x 16.5 inches.
A1 Posters
An A1 poster is a huge size that can be used for listing the schedule of performers at any concert, or they are great for making window displays more colourful. It will  make your window display look even more vibrant with bright colors.
A1 size: 841 x 594mm / 84.1 x 59.4cm / 33.2 x 23.4 inches.
A0 Posters
A0 posters will help to advertise your event even when indoors with our huge display option! This large format signage is perfect for adding an extra touch to any exhibition or trade show, and it's easy to hang from the wall behind display.
A0 size: 1189 x 841mm / 118.9 x 84.1cm / 46.9 x 33.2 inches.
40 x 30 inches Posters
A standard movie poster is approximately 30 x 40 inches and it's quite smaller than A0. Create your own custom posters for personal use or to advertise big events at your business.
Size: 1016 x 762mm / 101.6 x 76.2cm / 40 x 30 inches.
60 x 40 inches Posters
Bus stop advertising is a good way to reach people. We now have personalised posters that are perfect for bus stop display and our 60×40 posters will perfectly fit onto the bus stop display cases.
Size: 1524 x 1016mm / 152.4 x 101.6cm / 60 x 40 inches.