Presentation Folders
We specialize in printing high-quality presentation folders to give your business a professional appearance. Presentation folders are a great way to present in a promotional event or a marketing meeting. They help organise individual sheets inside in a safer and professional manner. Our presentation folder printing is available with gloss or matt lamination which gives extra protection to the folders.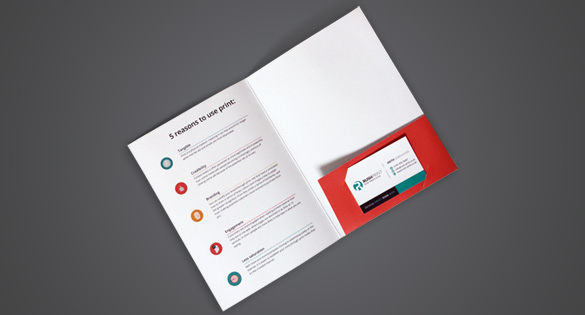 Show Filters
Uses of printed presentation folders
The best way to make it look like you know what you're doing is to dress the part. Make sure your notes and proposals are neatly organized in a professional presentation folder, no matter if this meeting is for securing new clients or job interviews- we've got them both covered!
Folder printing with fast turnaround
Need a folder fast? Order one today and get it in as little time as 3-4 working days! Ever need a folder in a pinch? We've got you covered with our quick turnaround time!
Presentation Folder printing with Rushprint
Rushprint allows you to customise your presentation folder to meet your requirements. We offer an enhanced file check for those who would like to make sure that they will get the results they are expecting, as well as an artwork template that can be found on the product page. We offer a fast and reliable shipping service to your door in as little as 24hours, and you can see the delivery date on the checkout page before proceeding to payment. Please don't hesitate to contact us if you have any queries about your presentation folder printing we are happy to help.
Presentation folders with front and back printing
You can print the entire surface of the presentation folder without any bound. Print your design on the front and back of the folder to make it stand out. You can release your creativity by selecting the front and back options if you have more information to print and if they are not fit on one side.