Folded Leaflets Printing and Brochure Printing
There are many different types of businesses that need folded leaflets printing. Whether you're a restaurant owner needing menus or a tourist informant wanting to deliver information to your visitors with style – folded leaflet printing is the best solution! Print your design on one of seven sizes, ranging from A5 to A3 with a choice between three paperweights and types of lamination in various folded leaflets.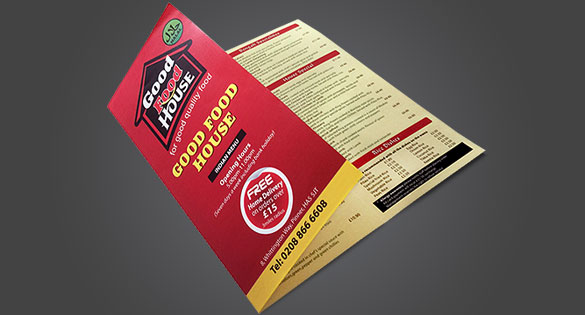 Show Filters
Cheap brochure printing
Rushprint has been printing brochures for nearly a decade. If you're looking for the best quality print production services with quick turnaround time and low prices then look no further than Rush Print!
Printed folded leaflets for the Restaurant menu and Take away menu
You'll never have to worry about presenting your restaurant menu or take away menu printing when you use our folded leaflets.
Half-fold leaflets can be folded lengthwise from the middle to equal two pieces.
Tri-folds allow three equal pieces of paper which fold down neatly without being bulky.
Give your folded leaflets the professional  finishing touch with lamination
Matt: The best way to make your folded leaflet out is by adding matt lamination. This prevents it from being too shiny and allows both text and images to be readable.
Gloss: This is the ideal lamination finish for when you're trying to make a combination of text and images stand out.  It has an extra shine that makes everything pop! Gloss finish is waterproof which means wiping down will be easy even after many rounds in busy bars or restaurants.
How long does it take to print folded leaflet?
It would take no longer than 7 days to print folded leaflet! This is because we offer various turnaround times for our printed and delivered leaflets. You can get your hands on them in as little as 2 working days or longer according to the delivery type selected.
What are the most popular folding leaflets paper stocks?
When you're looking for high-quality printing, the type of paper stock/material your leaflets are printed on is key. A variety of stocks can be used to suit a range of budgets and needs.
The thickness of the material is measured by 'GSM', or grams per square meter, so higher numbers indicate a thicker (or heavier) quality.
150gsm silk: Surprising for its low cost, this thin and lightweight stock is a popular choice among those looking to print takeaway menus or bulk leaflets. This paper does not only have the lowest weight but it also has an affordable price point that makes it perfect for smaller print jobs like takeout menus and flyer distribution to name just two uses!
250gsm silk: This is one of our most popular papers of folded leaflets. It's the perfect material for any marketing campaign, and it has a great printing surface that will wow your customers!
350gsm silk: The thickest paper of our silk stocks provide a sense of prestige to your customers. 350gsm silk papers can help create an upscale feel that's both classy and timeless–perfect if you're looking for something elegant but still durable enough to last through all sorts of handling. Have questions about which paper might be right? Give us a call today!
How can I distribute my leaflets?
We've found some great examples nearby where you can distribute folded leaflets; here are just a few:
When you're a local business, the best place for distribution might be nearby cafés, restaurants, small businesses – anywhere people spend their time outside of work or school should make sense!
Fitness clubs or gyms might want to put one near locker room entrances so people have something entertaining waiting for them when they get home after exercising all day long.
Local restaurants could do well with placing these bright informative pieces somewhere between tables as customers wait patiently before being seated –
It'll be sure that our printed folded leaflets make an excellent first impression on potential customers.
How to track the success of your campaign?
If you want to know how successful your marketing campaign is, it's important that you include a limited time only discount or offer. If the leaflet contains a code for this discount then there are ways in which one can track its success by following just how many times it was used. The same goes if someone includes a QR barcode on their leaflets and people use smartphones and tablets to scan them; they can be tracked accordingly so readers will know exactly what level of interest these new offers have had among potential customers!
Why folded leaflets are important?
Folded Leaflets are the perfect solution for when a flyer just won't do. The leaflet comes with various folding options, including half-fold, tri-fold, C-folds, and Z-folds. Whatever message you need to get across, we've got the right paper type or folding option for it.