CD | DVD | Blueray
Printing & Packaging
Best price for every product guaranteed
Rush Media Print is one of our sister companies and www.rushmediaprint.com is specially made to cater people who are looking for the best quality CD Duplication and CD Pressing UK for the lowest price.
We are one of the fastest growing DVD & CD duplication companies in the United Kingdom, based in London. We proudly offer CD replication, CD pressing and CD duplication in the UK at lowest prices with the highest quality silk screen or litho printed discs. We also offer a wide range of packaging solutions for your CD project from printed card sleeves, wallets, digipaks and jewel cases with custom printed inserts.
CD IN PRINTED DIGIPAK​
CD duplication or CD replication supplied in printed card Digipak with a clear plastic tray inside to hold the disc with booklet as an additional option.
DVD IN PRINTED DIGIPAK​
DVD digipak is the same height as standard DVD case though it comes with clear plastic DigiTray inside. 
DVD OR CD WALLET, DIGIFILE OR SLITPACK​
CD duplication or CD pressing supplied in printed card wallet with slit or tunnel pocket to hold the disc and booklet as an additional option.
DVD OR CD IN PRINTED SLEEVE​
CD duplication and printed CD in card sleeve. CD sleeve is a professional and cheap CD packaging solution.
CD IN ALBUM CASE WITH PRINTED INSERT
CD duplication or CD pressing supplied in plastic CD album cases (jewel case) with 4 - 36 page booklets and insert / inlay
CUSTOM PRINTED CD OR DVD
CD duplication or CD replication supplied in spindle or bulk wrapped. Ideal for your own bespoke packaging.
CD Duplication UK and CD Printing UK
CD Duplication is the method used to create discs from a master CD and CD duplication usually be carried out on quantities from 50 – 500 discs. However, can usually be worthwhile on as much as 1000 discs. Together with our very of CD and DVD packaging we offer a superb DVD and CD duplication service which, through the use of the latest equipment, ensures that each disc will likely be a precise copy of the unique disc you present. Utilizing solely the most effective duplicators available on the market, with copy and examine options, your duplication will likely be protected with us. Rush Print will produce precisely what you expect from our CD duplication service and the tip consequence would be the skilled wanting product you require.
We are endeavor hard to offer top quality manufacturing service for CD Duplication at the lowest possible price in the UK. Not just duplication, but we also offer CD replication usually known as CD pressing service in the UK at affordable prices. We provide a price match promise on all our products to ensure you are getting the best bang for your bucks. With a massive range of disc packaging options to choose from, you will certainly find a suitable packaging material for your CDs.
We offer CD duplication and CD printing services in the UK with worldwide shipping.  our service with a variety of CD package printing, such as CD Jewel Case, Flexipaks or Digipak available in a range of sizes, such as 4 panel, 6 panel, 8 panel and 10 panel. We are also manufacturing cardboard cases without containing plastic trays, such as CD sleeve and gatefold CD wallet, ranging from 4 to 10 panel sizes.
Our collection of DVD packaging is also very huge, which contains a range of DVD cases in black, or clear plastic cases with colourful print inlay and the disc.
Our DVD packaging range also includes DVD sleeves, DVD digipak or Flexi trays and printed DVD wallet with different panels.
Moreover, we can supply discs on the spindle or into simple clam shells or plastic wallets.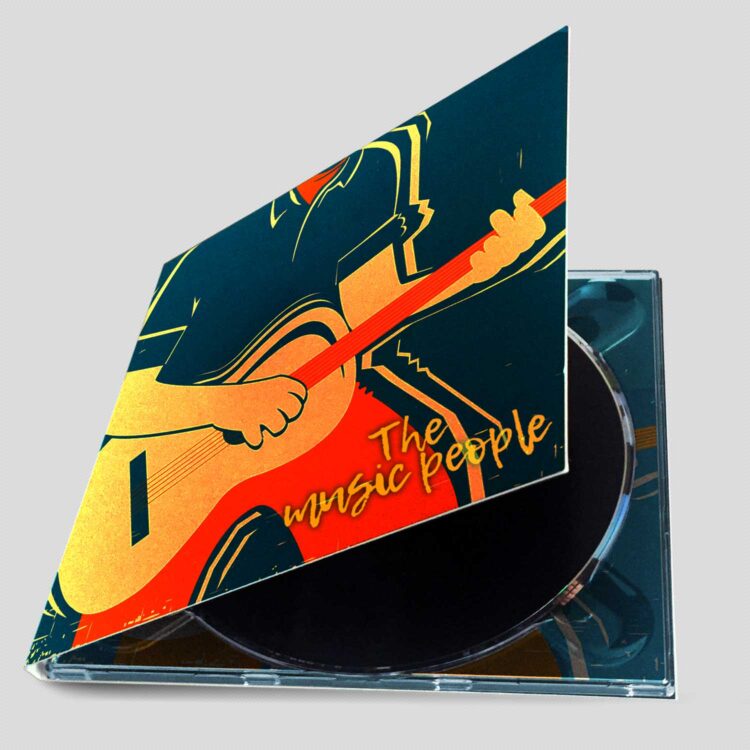 Rush Print as a CD manufacturer we make 4 panel, 6 panel, 8 panel and 10 panel CD digipak, 4 Panel CD Digipak is one of the most popular packaging choice among musicians when they launch CD albums. We also cater to small artists and bands that want small quantities between 100 to 500 of duplicated CDs. As we print and produce all the products in-house, we assure you with fast turnaround times along with reasonable rates and unmatched customer support without compromising on quality. We print DigiPak on a superior quality card stock of 300 microns, making it a durable and premium packaging product.
Although 4 panel and 6 panel CD DigiPak are popular choices, but our 4 panel CD DigiPak with booklet pocket and 6 panel 2 tray CD DigiPak are ideal for bands and musicians looking to sell two CDs or willing to add extra artwork along with their CDs. Rush Media Print offers a varied range of panel layouts, CD booklet pocket and digi-tray options, giving you wide options to choose from.
Besides CD DigiPaks, Rush Media Print also manufactures DVD DigiPak that uses bigger plastic flexi-trays with the same height as regular Amaray style DVD case, which makes it a preferred choice for DVD Duplication project.
View more options with our sister company Rush Media Print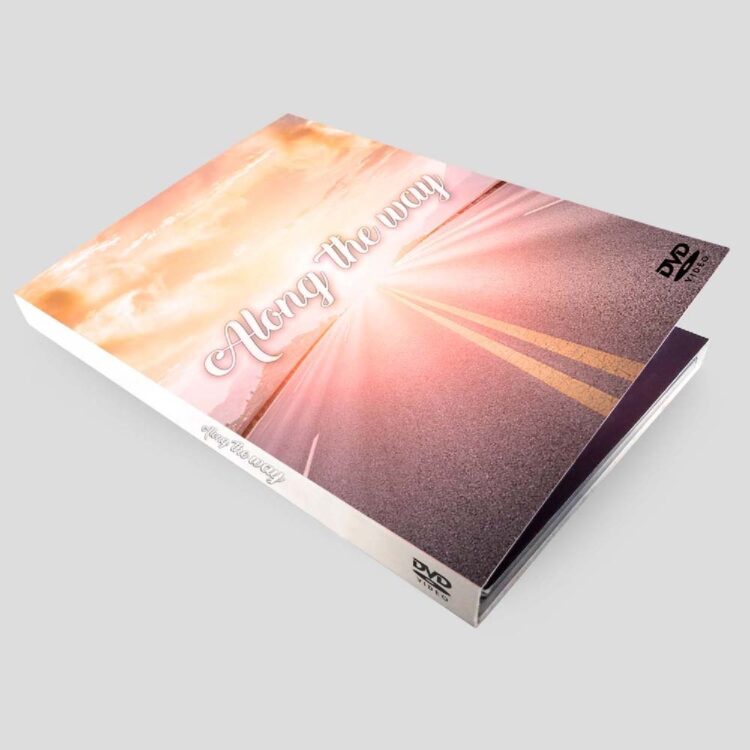 DVD Digipak is similar to CD Digipak, but with only one difference: it is a little taller than CD Digipak and have the same height as a standard DVD case. Although DVD Digipaks are majorly used in large DVD projects, some bands and artists also use this packaging when they have 2 disc CD and DVD in their album, where one has their music and another has the live footage from their concert. Rush Media Print offers both single and double disc tray options as a part of our short-run collection.
View more options with our sister company Rush Media Print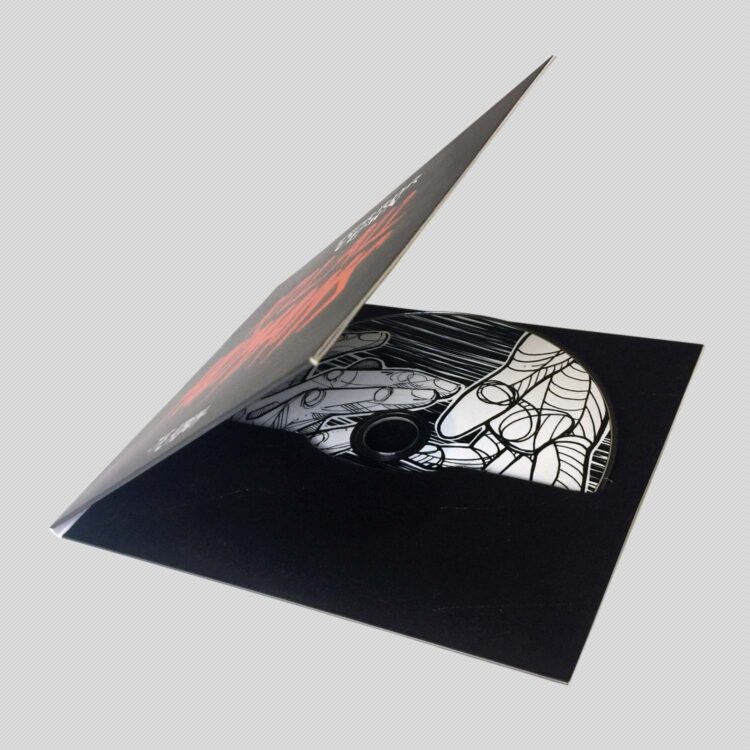 CD/DVD Wallet, Digifile or Slitpack
Customized printed card wallets are a great way to give professional look to your albums, and are also a cheap CD duplication packaging solution. For anybody who don't want to go for outdated plastic CD jewel cases, card wallets offer low cost album solutions that are also ideal for promotional CDs and single CDs. Being the UK's leading card packaging solution provider, Rush Print offers high quality card wallets at the lowest prices. We use thick card stock for all our card wallets to make them more solid and thicker than others. Even if you order low quantity prints, you can expect same robust quality. When this packaging is paired with a silver CD solution printed with black text, it is loved by the most people looking for a professional finished product within the budget.
The CD Digifile, also known as CD Slitpack, is a great alternative to CD DigiPak. While DigiPaks use plastic flexi tray or digitray which are fixed on the Digipak to keep the CD in place, Digifile use a die-cut slot, which is more convenient and eco-friendly CD packaging option. At Rush Media Print, we manufacture both taller DVD Digifile and CD Digifile, which is the part of our short-run as well as replication range.
View more options with our sister company Rush Media Print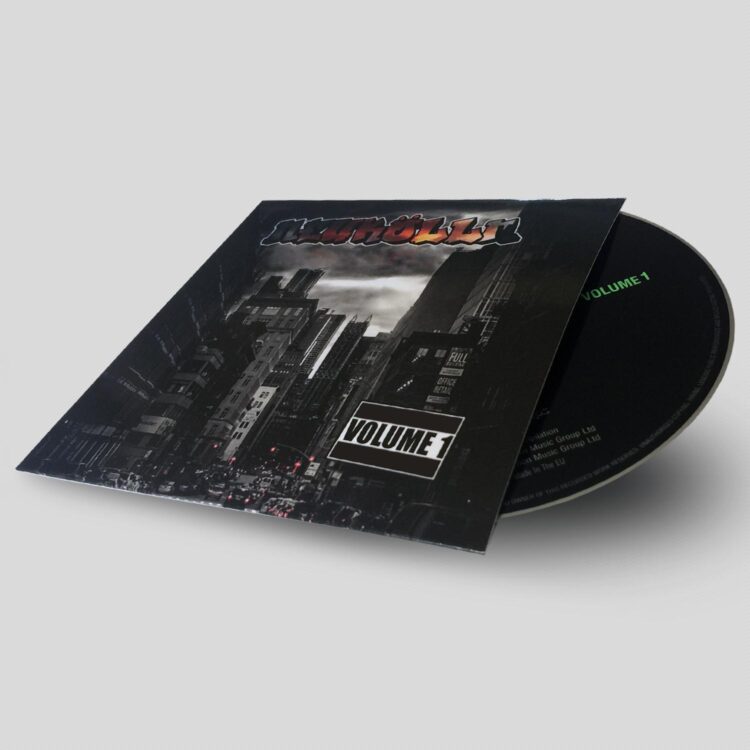 DVD / CD in printed sleeve
The CD jacket is one of the most popular disc packages for many reasons: they are an affordable package, which means artists can sell their albums at gigs or give away at events or conferences. CD jackets are also the lightest package, which makes very convenient for a musician to carry dozens of CDs at the show. CD jackets are also versatile, meaning you can sell them at events, sell them in stores, use for giveaways and much more.
Rush Print offers full-color CD sleeve at amazing prices so you can give a professional quality look to your music at a fraction of the cost. But, we offer more than quality CD packaging. We offer design service to CD cover along with digital and physical copy in order to support you in your endeavour. So, choose Rush Print to ensure your music sounds and looks the best with our excellent CD packaging products.
View more options with our sister company Rush Media Print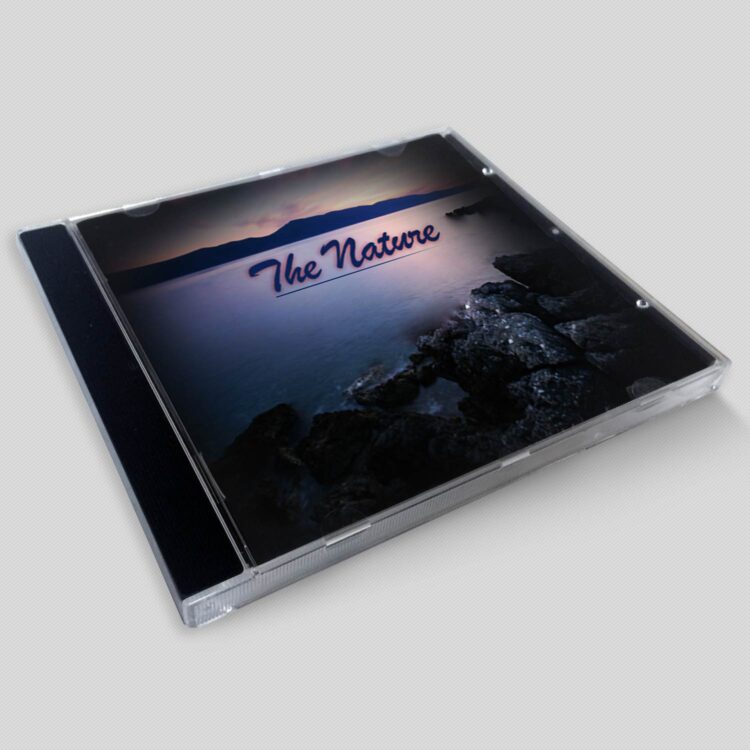 CD Jewel case with printed booklet
PERFECT OPTION FOR ENTIRE ALBUM RELEASE AS WELL AS DEMOS
When CDs were first introduced in the retail market, the jewel case was the standard CD case used by many professionals. That is because the jewel cases give a professional and neat look to your CDs, and to these days they remain one of the most preferred choices for retail CD packaging. Usually, our jewel cases are used for full-length albums, allowing you to add up to 32 page booklet for lyrics, linear notes and so on. Thus, choose our jewel cases and give a premium look to your music.
While some independent artists still prefer launching their music in classic jewel cases, they often choose to use slim jewel cases when launching a single or demo music CD. At Rush Media Print, our slim jewel cases are created with full-color inserts up to 8 panels along with an option of poly wrapping, which can give your CD a more professional look and add to your credibility. Besides disc manufacturing, we also offer other services like design services, barcode etc. Thus, make your next album release groundbreaking with CDs in classic jewel cases from Rush Media Print.
View more options with our sister company Rush Media Print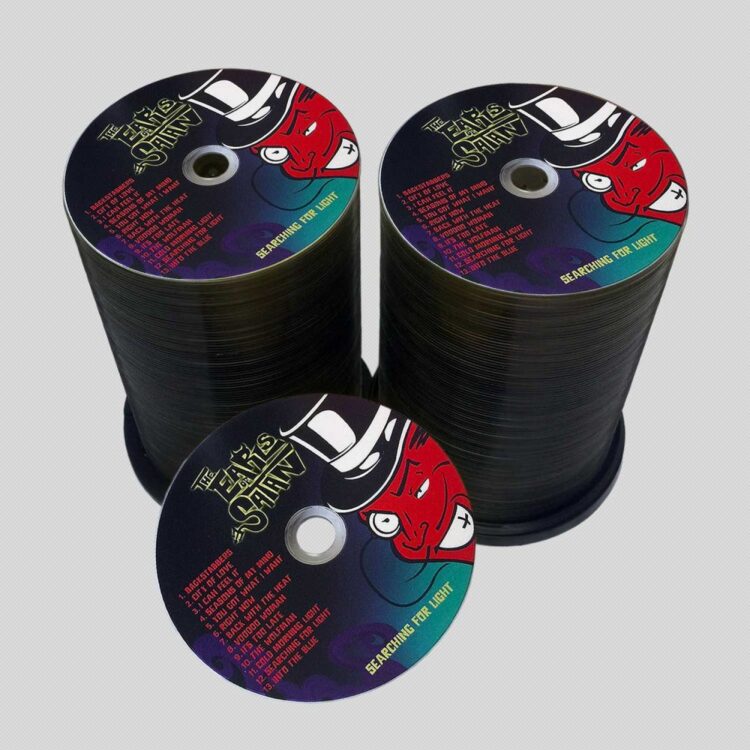 Screen / Litho printed CD & DVDs on spindle
DVDs and CDs on spindle is an ideal option when you don't want any cases or custom disc packaging. Whether you have your cases ready already or don't need cases or packaging at all, discs on spindle makes the best choice when you want to keep multiple discs in one place. The discs are fully color printed and all the contents are copied on the printed discs.
When you order discs in quantity below 500, we duplicate the discs. For orders over 500 units, replicate the discs using the glass-master.
View more options with our sister company Rush Media Print