Business relations are established on communications, and for these communications to be effective, it starts with an attractive business card. The first impression is the last impression, and when it comes to business it is no different. Your business card speaks a lot about you, your company and your products. It depicts your company's profile and professionalism in a single view. Make first impression a long-lasting one by ordering the finest quality business cards from Rushprint. They're available in a range of sizes and stocks. Our standard sized 55 x 85mm business cards are available on 350gsm uncoated or 450gsm Silk stock, with the option of Matt, Gloss or Soft-Touch lamination.
Shop by Business Cards Type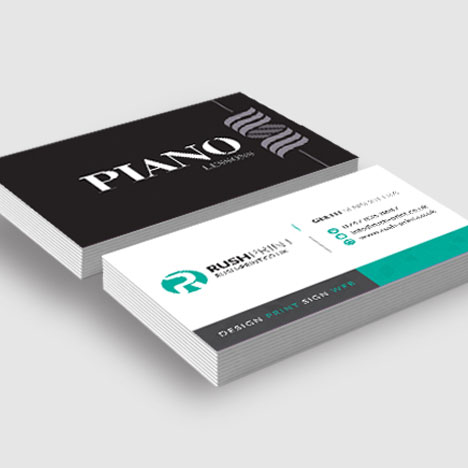 RushPrint's standard business cards are ideal for making a solid first impression. They're available in a range of sizes and stocks. Our standard sized 55 x 85mm business cards are available on 350gsm Silk or 450gsm Silk stock, with the option of Matt, Gloss or Soft-Touch lamination.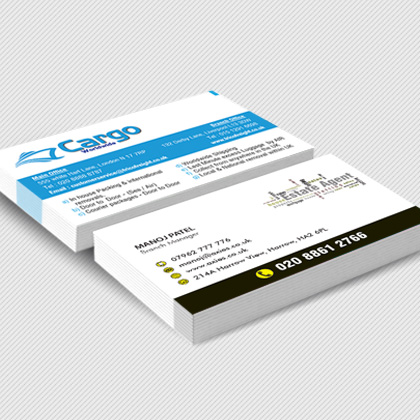 RushPrint's Uncoated Business Card range can be easily stamped or written on, making them ideal to be used as appointment or loyalty cards. With our uncoated stock, we also offer the option of making them out of 100% recycled materials.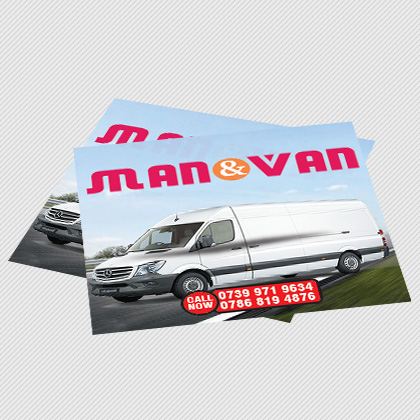 Square & Mini Business Cards
RushPrint's square business cards available include 350gsm and 450gsm silk coated stocks as well as our uncoated stock which has the option of being made out of 100% recycled materials. Silk coated business cards can be laminated with a Gloss, Matt or Soft-Touch finish.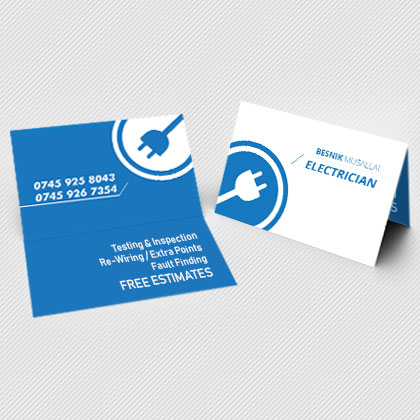 Folded Business Cards
Folded business cards are perfect for appointment or loyalty cards. Our Folded Business Cards are creased and supplied flat and available on either a 350gsm Silk or a 350gsm Uncoated. We recommend an Uncoated stock for any designs that are intended to be written on or stamped.
Struggling with the artwork?
Our Graphic Designing team can help you to create your perfect artwork for a best price.
We understand that every business needs a solid marketing strategy,
and our lowest priced Business Cards Printing service in the UK is just right for you.
Our aim is to make quality printing services available to a large number of individuals and organisations to reach new businesses and fresh markets.
Design Business Cards On Your Own
If you don't have visiting card design ready, don't worry. We have a great team of designers that can help you create the best artwork suitable for your company at the best prices. Once you are happy with your artwork, you are ready to proceed with your order. When your order is received by us, we will check your design to make sure the print on the business cards look as extraordinary as your business. We understand how crucial it is to market your business in a professional and timely manner, that is why we offer free delivery and next day delivery service to help you reach your goals faster.
Different Business Cards for Different Purposes
At Rushprint, we strive to deliver exceptional print quality in our all types of business cards. If you need to just convey your name and contact information, our standard business cards are just perfect for you. If you are looking something for low-cost loyalty cards or appointment cards, don't miss to check out our wide range of uncoated business cards that are made with 100% recycle materials. Our visiting cards are available in a variety of sizes and paper materials, so no matter what kind of business card you are searching for, we have exactly what you need.
A Variety of Paper Sizes and Finishes
Our easy to use online portal will allow you choose cards in different sizes and finishes. You can order cards in different sizes, such as 85 x 55mm, 55mm x 55mm as well as 85mm x 25mm and folded business cards design. However, the most common size used is
85x 85mm in the UK. Your cards can be printed in either portrait or landscape and single or double side. We offer you an option to print your cards on paper grade from 350gsm up to 450gsm, with a choice of glossy, matt and soft-touch lamination.
How Business Cards are Made at Rushprint?
When you order business cards, it goes through an amazing journey before they reach at your doorstep. As soon as you upload an artwork, our team of designers immediately starts working on your order to create a proof for your business card. Once the proof is approved, we will send it to our production unit that uses state-of-the-art print technology to produce high resolution print product. Then it is checked by our quality experts to see if your cards are made of the best quality. Now your business cards are ready to go on a marketing journey.